WEEK 6 August 7th – 10th, 2018 Summer Camp Program
**closed Monday August 6th**


Cinema Stars Week
Focus your lens on movie creation, technological animation and real life reporting during our week long send-up of Hollywood North. We're spinning the reels and putting a fun new spin on our traditional drama camp.
Special Activities / Visitors
Important: We are closed Monday August 6th for the Civic Holiday.
This week our Junior Explorers will be visited by none other than some of the most famous Disney characters of all time for song singing, dancing, autographs and more. They will take a field trip with the Senior Adventurers to film.ca in Oakville for Hotel Transylvania 3 and have a special story time Friday afternoon.
Senior Adventurers will be going to Film.ca and taking part in a "triple threat" dance off.
The Mavericks this week will be travelling to Toronto to visit the City TV newsroom on Wednesday and Second City Comedy Club on Thursday.
Please arrive by 8:30am on Field Trip Days or you may miss the bus! (We don't have any alternatives to care for children who are not on the trips.)
Waterplay
This week there are no swimming trips however we do recommend that you send your child with a bathing suit and towel every day in case we do water play outdoors.
Please see individual program information toward the bottom of this email.
---
IMPORTANT ENTRANCE & PARKING:
Please note that sections of Parkside Drive may require that you detour or stop for flagged one-way access.
We can suggest an alternative is to head West on Rockhaven Lane (Stop Light south of Fortinos) , turn right on Segwun Road and follow it around until it intersects with Keewadin Street. Turn right (East) off Keewaydin onto Parkside Drive and the Student Parking entrance is your next left off Parkside after the track field.
If you accidentally follow Keewaydin Street across Parkside Drive you will end up in the Main WDHS Parking Lot and that makes it more difficult to walk to our program from there.
Camp is located at the far EAST Wing of Waterdown District High School (WDHS) by the Blue Gymnasium which has it's own student parking lot and driveway off Parkside Drive (one block east of the Main WDHS/YMCA Entrance).
A few families have difficulty finding it the first time. (Our video can help orient you.)
You can not cross through the high school from the main entrance (nor drive from the Main Parking Lot through to the Student Parking Lot), but you can walk from the Main Parking around on the outside above the sports field to the East Entrance.
Please park in any designated visitor/student spot. You may not park, stop or idle in the drop-off / fire zone (we get complaints from the school and will have cars towed).
After parking please bring your child(ren) in and up the stairs to the Check In room on the second floor.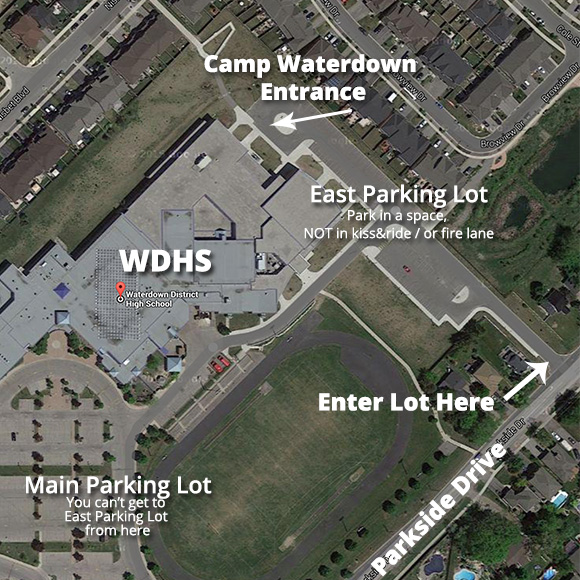 CLICK for a larger map view, plus Video and answers to Frequently Asked Questions
More FAQs & Orientation:
For more information about the camp, parking, and first day procedures, please review our Video, and Frequesntly Asked Questions page. The video is especially useful to share with children who have first day of camp jitters (and parents too!). Some of our personnel and group names have changed (and staff now wear white uniform shirts).
Pre-camp check list:
a healthy tree nut, peanut and sesame free LUNCH
(parents will be called to bring in a lunch if it is forgotten)
two extra small snacks (for nibbling during breaks during the main program, we provide an additional a.m and p.m snack for those children in our extended care)
bring a water bottle with your child's name on it
apply sunscreen BEFORE or while dropping your child off, and pack a bottle of high SPF sunscreen with your child's name on it.
(Sunscreen will be re-applied in the afternoon, young campers will be assisted.)
bring a sun hat and wear comfortable clothing that protects shoulders from the sun (tank tops are discouraged) and pack extra clothes in case of accidents or messiness from our amazing hands on experiences
a bathing suit and towel each day in case we venture out to the splash pad or for swimming trips
comfortable running shoes are highly recommended, flip flops are not permitted except for water play.
running late or absent? If you are going to be later than 9am (or 8:30am on field trip days) or absent, please call 905-902-1261 or 905-902-1236 (no emails) .
We call families starting at 9:30am for any child absent without notice as per our safe arrival policy.
check in on the 2nd Floor, Room 2047
have a terrific, fun experience!
NOTE: *We are a PEANUT, TREE NUT AND SESAME free program, as we have children with severe anaphylactic allergies.
Hours of operation:
7am until 6pm + extended hours (7-9am and 4-6pm) are included in your fee. A healthy snack will be provided during extended hours.
Absences & Urgent Calls:
If you need to get in touch with us, are going to be later than 9am (or 8:30am on field trip days) or absent, please call 905-902-1261 or 905-902-1236 only. Emailed messages are not normally monitored during the day.
If you have not notified us about an absence, we will contact you at 9:30am by telephone to confirm the non-arrival of your child as per our safe arrival policy.
Trip Days Arrival:
If you have not arrived in time for a Field Trip Days (8:30am), then we can not care for your child that day. In SOME cases we may allow you to bring them to the trip venue yourself to meet the group (you must check-in and obtain permission and instructions from the Camp Directors first).
Morning Entrance:
Each day, enter at the East Entrance and
come up the stairs to check in at our "Check Point Room" – Room 2047 on your left.
First day: look for child's name / group on the white board and then proceed to the sign in tables. The different tables will be clearly identified.
Jr. Explorers are either the Owls, Toucans or Minnows
Sr. Adventures & Mavericks are different colored groups
At your sign-in table you will be greeted by one of our Camp Leaders. This would be a good time to communicate any specific needs, pre-arranged medication etc.
Once you have checked in you will write your child/children's name on a locker which will be clearly marked to match your group (colour coordinated) and will remain the same for the week. Staff will direct you to the appropriate classroom where your fun day begins!
Please do not be afraid to ask our counsellors in white shirts for assistance if you need any help and remember the first day of each week can be a little bit chaotic!! We are all here to help and get ready for an awesome week!!
Main Program:
At 9:15am sharp on the first day our campers will go for a morning pep rally and some exercise to get us ready for the day and the amazing week ahead of us. On the first day the camp leaders will be introduced to all campers, and then your group leaders will gather their group and continue the planned portion of our program.
Afternoon Pick-up:
Enter at the same location as drop off. After 4pm please check the board in the middle of the hallway to find out which room your children's group will be. Pick-up your child/children and sign them out in the check point room. As this time of day it can become very busy please be patient and remember as numbers get lower we will be merging children into different groups. We do our best to make this as organized as possible.
Children must be picked up by their parent/guardian, or a pre-designated adult contact. We may ask for ID from all visitors to ensure child safety. Any person picking up who is not the parent will be required to bring valid photo identification (no exceptions) and the parent must give us prior consent.
Friday Parent Drop-In:
Parents are invited to our camp wide Zumba Class in the gymnasium on Friday afternoon.
Swimming Safety:
Due to a number of recent changes in public swimming pool policies, we have decided not to include swimmable depth pools in our summer camp excursion planning. Safe and active water play continues to be an important part of our summer fun, experiential learning, and staying cool at Camp Waterdown.
If you have any questions regarding swimming / water play and our policies, or wish to relay water safety information specific to your child, please do not hesitate to call or speak with our Camp Directors.
Lost & Found:
Each year we accumulate an abundance of un-marked clothing, water bottles, knap sacks and other personal items. When leaving the program on your last day, please remember to cruise by the Lost & Found table on your way out!
---
Jr. Explorers JK/SK
Disney Dreamers
Once Upon a Time we'll focus on dramatic play, learning the do's and dont's of being real life heroes and how to be a good friend with inspiration from our favourite characters. We'll be going to a special movie at Film.ca in Oakville, and join us Family Friday for a Zumba class!
TRIP THURSDAY: Film.ca (Oakville)
Arrive at camp by 8:30am. We plan to return at approximately 1:30 *Please note that sometimes the buses may be later due to traffic/weather conditions
For all days: REMEMBER TO BRING YOUR BATHING SUIT, TOWEL, CLOSE-TOED RUNNING SHOES, SOCKS, HAT AND WATER BOTTLE EVERY DAY
---
Sr. Adventurers GR1-12yrs
Animation Station
Learn about the evolution of 2D and 3D characters, scenery and animation of film, and become proficient in nature photography with the use of real cameras and an editing workshop. We'll visit Film.ca in Oakville for a special movie day out and end the week with a Family Friday Zumba class (everyone is welcome)!
TRIP THURSDAY: Film.ca (Oakville)
Arrive at camp by 8:30am. We plan to return at approximately 1:30 *Please note that sometimes the buses may be later due to traffic/weather conditions
For all days: REMEMBER TO BRING YOUR BATHING SUIT, TOWEL, CLOSE-TOED RUNNING SHOES, SOCKS, HAT AND WATER BOTTLE EVERY DAY
---
Mavericks 9-13yrs
Comedy Central
Tour a real live newsroom, attend an improv workshop and dabble a little in advertising and other forms of media expression. This week is a cornucopia of fun and entertainment.
Reminders:
TRIP WEDNESDAY: City TV and OMNI Newsroom (Toronto),
Arrive at camp by 8:30am.
TRIP THURSDAY: Second City Comedy Club (Toronto)
Arrive at camp by 8:30am.
For all days: REMEMBER TO BRING YOUR BATHING SUIT, TOWEL, CLOSE-TOED RUNNING SHOES, SOCKS, HAT AND WATER BOTTLE EVERY DAY
---
If you have any urgent messages that need to be delivered to the Camp please call us on our site phone: 905-902-1261 or 905-902-1236
Emailed messages may or may not be monitored during the day.
If you have any questions about this week or the program, please email: info@campwaterdown.com or chantelle.culver@wdcc.ca
If you have questions about your registration (other than Week 2), please email: register@campwaterdown.com
Summer's just heating up, and we can't wait to see you this week!!
Thank you!
Katelyn, Chantelle and the 2018 Summer Camp Staff