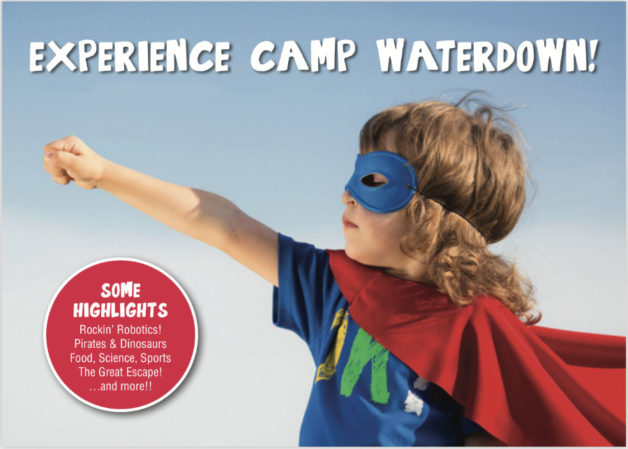 SUMMER CAMP WEEK 1: July 2 – 5 Pre-Camp Orientation
Summer Holidays are ALMOST here!
Monday July 1 is the Canada Day Holiday, Camp begins on Tuesday
We are going to spread our wings and soar into a truly "Canadian-inspired" theme week (with no snow). Celebration of Canadian culture, history and the diversity that this far reaching country offers inspires our summertime activities. Culminating in our O'Canada Day Party on Friday July 5th!
(This article is long, but please take time to review the Programming for your age group and the Important Reminders & FAQs below so that you are prepared for the week!)

Location & Hours
Waterdown District High School (East Wing)
215 Parkside Drive, East Student Parking Lot (look for signs)
Program tel: (905) 902-1261
(Please call this number with any absences,
emails do not normally reach the program in time)
Hours: 7am until 6pm
Main Program is 9am – 4pm  (Drop Off before 9am & Pick Up after 4pm ensures the easiest transitions and not missing the main fun, and is required on bus trip days!)
Extended hours (7-9am and 4-6pm) and a healthy snack during these times are included in your fee. When we are on a bus trip, we plan to be back by 4pm unless otherwise notified.
Parking: Please park in any designated spot. You may not park, stop or idle in the drop-off / fire zone (we get complaints from the school and will have cars towed). Important: The SouthEast WDHS Entrance is the one closer to Centre Road/Hamilton Street North – you can not cross through the school from the main entrance (nor drive from the Main Parking Lot to the Student Parking Lot).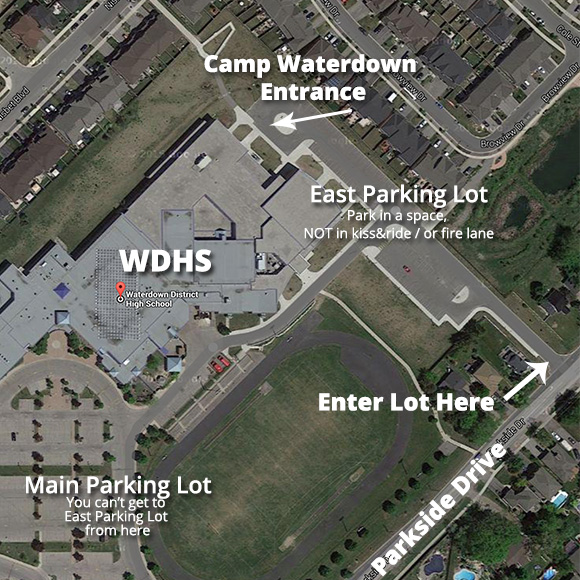 Check-in: We do not permit children to arrive and leave unaccompanied from our programs, you must park then come in to sign in and sign out your child(ren). All children must be checked in and out by their parent/guardian or a pre-authorized caregiver (recorded in your registration or given to our administration in advance in writing). Caregivers picking up will be asked to show us picture ID to confirm identity.
Each day, enter at the East Entrance and come up the stairs to check in at our "Check Point Room" – Room 2047 on your left.
First day: look for child's name / group on the white board and then proceed to the sign in tables. The different tables will be clearly identified.
Jr. Explorers are either the Llamas, Flamingos or Unicorns,
Sr. Adventures & Mavericks are different color groups
At your sign-in table you will be greeted by one of our Camp Leaders. This would be a good time to communicate any specific needs, pre-arranged medication etc.
Once you have checked in you will write your child/children's name on a locker which will be clearly marked to match your group (colour coordinated) and will remain the same for the week. Staff will direct you to the appropriate classroom where your fun day begins!
Please do not be afraid to ask our counsellors in uniform shirts for assistance if you need any help and remember the first day of each week can be a little bit chaotic!! We are all here to help and get ready for an awesome week!!
If it is a Bus Trip Day – arrive before 9:00am and do not wait outside for the bus,children must dropped off and signed-in inside the program to be admitted to your group and receive identification items before we leave.
Please note that if you miss the bus, we do not provide an alternative for care, nor can you bring your child to the field trip location for dropoff (or pickup, except in an emergency).
Main Program: At 9:15am sharp on the first day our campers will go for a morning pep rally and some exercise to get us ready for the day and the amazing week ahead of us. On the first day the camp leaders will be introduced to all campers, and then your group leaders will gather their group and continue the planned portion of our program.
Afternoon Pick-up: Enter at the same location as drop off. After 4pm please check the board in the middle of the hallway to find out which room your children's group will be. Pick-up your child/children and sign them out in the check point room. As this time of day it can become very busy please be patient and remember as numbers get lower we will be merging children into different groups. We do our best to make this as organized as possible.
Children must be picked up by their parent/guardian, or a pre-designated adult contact. We will ask for ID from all visitors to ensure child safety. Any person picking up who is not the parent will be required to bring valid photo identification (no exceptions) and the parent must give us prior consent.
Friday Parent Drop-In: Most Fridays we hold a show and share from 3:30-5:30pm. Please check your activity calendar for details.
Lost & Found: Each year we accumulate an abundance of un-marked clothing, water bottles, knap sacks and other personal items. When leaving the program on your last day, please remember to cruise by the Lost & Found table on your way out!
Running late or absent?
If you are going to be later than 9am or absent, call 905-902-1261 (NO EMAILS PLEASE).
We will start calling families for any child absent without notice, as per our safe arrival policy.
PLEASE CALL US AT (905) 902-1261 if you cannot find our program, or have any questions or concerns during the day.
---
Programming
Junior Explorers (JK/SK)
ANIMAL CANADA
This week our junior groups will venture deep into the exploration of Canadian creatures and critters alike.
Thursday they will be travelling to Wildhagen Gardens in Milton for a day's adventure outside exploring what the forest has to offer.
Reminder ALERT Please ensure you dress your children dressed appropriately all week as they may get messy!
Special Activity On Friday we will be celebrating with our own sensational "Canada Day "parties in our classrooms and we will be taking a walk to Memorial Park for a picnic and splash pad enjoyment.
DOWNLOAD OUR ACTIVITY CALENDAR (PDF)
---
Senior Adventurers (6-12yrs) & Mavericks (9-13yrs)
TRUE NORTH EH?
This week both our Senior and Maverick groups will be diving deep into Canadian culture both old and new. They will take their turns exploring a world of maple, and be visited by two special visitors.
Campers will be taking a community walk to Rockhaven park to meet with Ka'Nata village for some Traditional Canadian Games and partake in Early Canadian music workshops.
We will also we travelling to Mountsberg Conservation in Milton for a variety of activities ranging from birds of prey, instincts for survival, lakeside exploration and play barn fun.
Friendly Reminder Our trips this week will be rain or shine and will take place on two separate days this week so be sure to check on Tuesday morning which date (Thursday or Friday) that your child's group will be attending.
Are you ready to party? Because Friday is an electrifying day where each group will each get to have camp experience that is truly Canadian. Our Canada Day parties will be complete with crafts, festive food, dancing and so much more!
DOWNLOAD OUR ACTIVITY CALENDAR (PDF)
If you have any urgent messages that need to be delivered to the Camp please call us on our site phone: 905-902-1261 or 905-902-1236
Emailed messages are not always monitored during the day.
If you have any questions about this week or the program, please email: info@campwaterdown.com or register@campwaterdown.com
We cannot wait to get this week started!
---
Important Reminders & Requirements
BRING A LUNCH & A WATERBOTTLE.
BRING SWIMMING SUIT, SUNSCREEN, HAT, SOCKS & INDOOR RUNNING SHOES.
NO BARE SHOULDER SHIRTS, NO FLIP FLOPS OR CROCS (unless you also bring running shoes), & SOCKS ARE REQUIRED.
Children should bring their belongings in a back-pack with their name on it.
Pack a nutritious lunch (it must be peanut, tree nut, and sesame free – parents will be called to bring a lunch if it is forgotten), & two small extra snacks for nibbling mid-day.
Bring a water bottle with your child's name on it,
Apply sunscreen BEFORE dropping your child off, and pack a bottle of high SPF sunscreen with your child's name on it (or in a baggy with their name on it to be kept in their backpack). Younger children will be assisted in re-application for the afternoon's activities.
Bring a sun hat and wear comfortable clothing that protects shoulders from the sun (no tank tops, etc.) and pack extra clothes in case of accidents and messy play.
Bring comfortable indoor running shoes & socks as these must be worn during the program (flip-flops, swim shoes and crocs only allowed as secondary wear for waterplay)
Bring a swim suit and towel for days that we venture out to the splash pad or on waterplay excursions.
Please dress appropriately for the weather as each day will consist of sometime spent outdoors
IF there will be swimming on an excursion, you will be informed in our activity calendar and orientation email. Lifeguards will be provided by the venue, as well as our staff supervising in and out of the water at all times
Our JUNIOR campers will only visit splash pads up to knee level (water wings are not permitted).
Our SENIOR / MAVERICKS campers will be swim tested and given a facility lifejacket by lifeguards if needed (water wings are not permitted, puddle jumpers discouraged). In some cases they may have access to supervised waterslides (for children) and pools up to 1.5 metres deep both indoors and outdoors
---
Changes & Cancellations
Program changes and cancellations due to unforseen circumstances are posted on our web site's home page, and on our Twitter feed: @CampWaterdown
No refund of paid fees or deposits are given for registrant changes and cancellations within 15 days of Program Day start.
Cancellations due to serious medical reason (requiring hospitalization or affecting ambulatory mobility) are subject to the Executive Director's discretion. If granted, will receive a pro-rated refund for full day(s) to be missed (after notification) less a $35 administration fee. An original and verifiable doctor's letter will be required for notification.
Refunds are not given for absence due to any communicable illnesses or parasites (cold, flu, chicken pox, mumps, lice, etc.), elective or scheduled medical/dental reasons.
Credits or refunds can not be given for late arrival, early departure, illness, absences, dismissal, or program / facility closures due to emergency, weather or any other unforeseen circumstances.
The financial obligations of Camp Waterdown (a registered charitable not-for-profit organization) are fixed for each program based on the number of pre-registered campers . The withdrawal of a camper does not lessen our operating expenses.