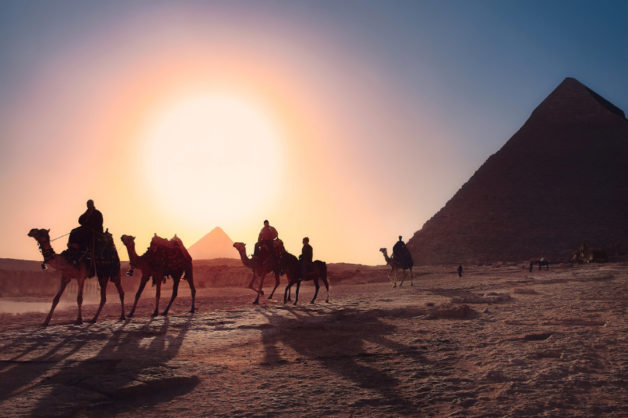 Getting Ready for December's
"Around the World in Three Days!" Holiday Program
(Monday Dec. 23,
Monday Dec. 30 &
Tuesday December 31)
We approach travel from an unexpected angle, helping develop young imaginations while at the same time exploring some of the most fascinating and diverse landscapes, animal and plant habitats and the fascinating people of regions of the world.  All our programs include active outdoor time, group games, indoor challenges and crafts.
Unfortunately our December 23 and 30 programs are full to capacity. We do not accept walk-ins to our program. You must be pre-registered, not on the Wait List and pre-paid to attend.
(Remember to pack a nut free lunch, dress for the cold weather, wear boots please, and for certain bring SOCKS, and running shoes as we will be both outdoors and indoors in a gym setting)

Location
December 23: Guy B. Brown Elementary
55 Braeheid Avenue
December 30 & 31: Waterdown District Children's Centre (215 Parkside Drive attached to the highschool)
Program tel: (905) 902-1261
Please call this number with any abscences.
Emails will not reach us in time
Main Hours: 9am – 4pm
Extended Program (included in fee):
7am – 9am, 4pm-6pm
Extended hours (and healthy snacks) are ALWAYS included in your original program fee. Pick Up after 4pm ensures the easiest transitions and not missing the main fun!
Program
Day ONE: North Atlantic, Monday Dec. 23
We will be stopping over in Iceland! Here, the children will have an opportunity to learn about some of the world's first travellers and traders – the vikings! From there, the children will have a chance to learn about some awesome Norse mythology, including learning about Thor, Loki and Odin! Travelling from Iceland to arrive at Russia, the children will learn about traditional Matryoshka dolls, and take part in an awesome "ice" hockey tournament.
Day TWO: India, New Zealand and Egypt, Monday Dec. 30
Pack your shorts because we are heading to India! While there, children will learn all about traditional Indian art forms, including henna tattoos, and textile painting! Next, the kids will fly over to New Zealand! Here, we will be learning about one of New Zealand's traditional holidays – Waitangi Day! Then they will travel to the Land of Mordor to explore the Lord of the Rings! Finally, we will be stopping in Egypt, where we will be learning all about the famous Pyramids of Egypts! After a busy day of travelling we will be ready for a snack! In Egypt, we will be trying delicious Egyptian butter cookies! Please see the updated Activity Calendar Below!
Day THREE: South America, Peru, Machu Picchu & Mexico, Tuesday Dec. 31
On our last day together in 2019 we will make a stop in South America to visit Peru and the ancient site of Machu Picchu! Then we will engage in some of the wildlife of Peru – LLAMAS! To complete our tour of the world, we will be stopping in Mexico, where we will learn some Spanish words! Finally, we will end out tour of the world with a Mexican Fiesta to celebrate all we have done on our travels!
DOWNLOAD OUR 2019 WINTER HOLIDAYS ACTIVITY CALENDAR (PDF)
---
Reminders
BRING A LUNCH. BRING SOCKS & RUNNING SHOES. DRESS FOR THE COLD WEATHER & OUTDOOR PLAY. (Outside Boots please too!)
Be sure to pack your children with a lunch (it must be peanut, tree nut, and sesame free), and two small extra snacks for nibbling mid-day, water bottle, comfortable indoor running shoes, spare clothes (if indicated), and outer clothes appropriate for the weather.
Entrances:
At Guy B. Brown Elementary (December 23)
When dropping off and picking up your children, enter through the main building FRONT (stairs) door closest to the JK/SK Pen & main parking lot.
For pick up, enter THROUGH the JK/SK Pen. The doors you entered for the morning drop off may be locked.
Please do not use the school's main entrance. Children may not be dropped off for entrance on their own.
At Waterdown District Children's Centre (Dec 30 & 31)
Please park in a designated space (there are some spaces near the chidlren's playground aboev the sports field) and bring your child(ren) in and out through the playground entrance.
Check-in / check-out:
All children must be checked in and out by their parent/guardian or a pre-authorized caregiver (recorded in your registration or given to our administration in advance in writing). All caregivers picking up will be asked to show us picture ID to confirm identity.
Parking:
Please use one of the school's parking spaces or street parking if it is allowed. Do not park, stop or idle beside the school or KG Pen entrance or in the bus / fire lanes as this is not permitted and creates a safety concern.
Running late or absent?
If you are going to be later than 9am or absent, call 905-902-1261 (NO EMAILS PLEASE).
We start calling families at 9:30am for any child absent without notice, as per our safe arrival policy.
PLEASE CALL US AT (905) 902-1261 if you cannot find our program, or have any questions or concerns during the day.
---
Changes & Cancellations
Program changes and cancellations due to unforseen circumstances are posted on our web site's home page, and on our Twitter feed: @CampWaterdown
No refund of paid fees or deposits are given for registrant changes and cancellations within 15 days of Program Day start.
Cancellations due to serious medical reason (requiring hospitalization or affecting ambulatory mobility) are subject to the Executive Director's discretion. If granted, will receive a pro-rated refund for full day(s) to be missed (after notification) less a $35 administration fee. An original and verifiable doctor's letter will be required for notification.
Refunds are not given for absence due to any communicable illnesses or parasites (cold, flu, chicken pox, mumps, lice, etc.), elective or scheduled medical/dental reasons.
Credits or refunds can not be given for late arrival, early departure, illness, absences, dismissal, or program / facility closures due to emergency, weather or any other unforeseen circumstances.
The financial obligations of Camp Waterdown (a registered charitable not-for-profit organization) are fixed for each program based on the number of pre-registered campers .