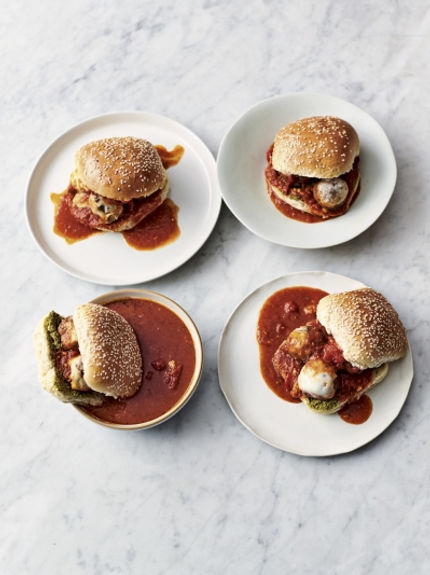 Adapted from Jamie Oliver's 5 Ingredients – Quick & Easy Food
Ingredients
400 g lean ground beef (any ground meat or a veg alt that sticks)
8 heaping teaspoons green pesto (fresh Basil will do or even lettuce!)
1 x 365 – 750ml can of plum tomatoes (size depends on how saucy you like them!)
1 x 125 g ball of mozzarella (or your favourite cheese)
4 soft burger buns
A little salt, pepper and olive oil!
Method
Use your clean hands to scrunch the minced beef with half the pesto and a pinch of sea salt and black pepper.
Split into 12 pieces and, with wet hands, roll into balls. Brown the balls all over in a non-stick frying pan on a high heat with 1 tablespoon of olive oil, shaking the pan regularly.
Once the balls are golden and gnarly, pour in the tomatoes, breaking them up with a wooden spoon, along with just a quarter of a tin's worth of water.
Bring to the boil, slice the mozzarella and lay over the balls, pop the lid on and leave to thicken for 5 minutes on a medium heat.
Meanwhile, warm your buns in a large dry non-stick frying pan or in the oven on a low heat.
Split each bun and spread 1 heaped teaspoon of pesto inside. Divvy up the balls and mozzarella with a little sauce, serving the rest on the side for dunking.
*All recipes / projects presented on campwaterdown.com are tested by our Staff and we hope you are inspired to create them.  WDCC and Camp Waterdown is not responsible for the outcome of any recipe / project you try from our website or any resulting damage or injury to your person or property.  We make no claims as to the suitability, safety or toxicity of our projects. All such activities with children should be supervised by adults, and caution needs to be exercised when using small objects with children 3 years and under. Please use at your own risk and with reasonable cautions.
×