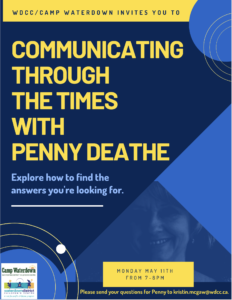 Penny Deathe will be discussing 'communication through the times', how to get the answers you are looking for and who to talk to. As well she will be touching on mental health, and some resources for parents and children.
Penny Deathe is a trustee for Hamilton Wentworth District School Board, specifically for ward 15. She is part of multiple committees such as the City/School Board Liaison Committee, Parental Involvement Committee and many more. Penny is also the Executive Director at Healthy Youth Network, which is a community led initiative to support positive youth development.
In this session, Penny will answer questions posed to her in advance from our families and community.
Please forward any questions for Penny to kristin.mcgaw@wdcc.ca by Wed, May 13th at 3:00
Hope to see you there!!
Hosted and Moderated by Shelley Bradaric, Executive Director WDCC
This session, not including faces of participants, will be recorded.
A Zoom Meeting Link will appear here for our Logged-In Members: