2019 – 2020 Camp Waterdown PA Days and Holiday Care Registration Sign In
2019 – 2020 Camp Waterdown PA Days and Holiday Care Registration Sign In
2019 – 2020 PA DAYS & Holiday Program

Registration is open to the public!
New this year: All Ages Pricing
Mindfulness & Meditation for Children "Pause. Breathe. Smile."
A Special Two Day Program
Over the two days of this very special program, unique to Waterdown (Flamborough) we will be introducing the concept of Mindfulness (and Meditation) by exploring and practicing a variety of effective self-awareness techniques that are simple, fun and engaging to help children's development in awareness, self confidence and empathy. It will be truly an inspiring and engaging experience.  Each day of this limited opportunity works independently if you can only attend one, but w think this program is so important for kids that the price for choosing both days will be discounted by 10%! (Full description to follow.)
Thursday January 2 ($47)


Mindfulness & Meditation for Children, a PBS Approach (Pause. Breathe. Smile.) Day ONE


(location to be announced, limited space)
Introduction to Mindfulness for Kids. Interactive games, crafts, research/learning and fun group activities as well as outdoor time. Please see the updated Activity Calendar Below!
Friday January 3 ($47)


Mindfulness & Meditation for Children, a PBS Approach (Pause. Breathe. Smile.) Day TWO


(location to be announced, limited space)
Introduction to Meditation for Kids. Taking what we learned from Day One and learning some meditation techniques, a little yoga, special Mindfulness & Meditation Visitors and some great crafts to help with taking our practice forward, as well as outdoor time. Please see the updated Activity Calendar Below!
Around the World in Three Days!
We approach travel from an unexpected angle, helping develop young imaginations while at the same time exploring some of the most fascinating and diverse landscapes, animal and plant habitats and the fascinating people of regions of the world.  All our programs include active outdoor time, group games, indoor challenges and crafts.  Come explore the world with us for the December 2019 Winter Holidays!
Monday December 23 ($47)


Winter Holiday 2019! – Around the World in Three Days (Day ONE: North Atlantic)


(at Guy B. Brown)


We will be stopping over in Iceland! Here, the children will have an opportunity to learn about some of the world's first travellers and traders – the vikings! From there, the children will have a chance to learn about some awesome Norse mythology, including learning about Thor, Loki and Odin! Travelling from Iceland to arrive at Russia, the children will learn about traditional Matryoshka dolls, and take part in an awesome "ice" hockey tournament.  Please see the updated Activity Calendar Below!

Monday December 30 ($47)


Winter Holiday 2019! – Around the World in Three Days (Day TWO: India, New Zealand and Egypt!)


(at WDCC – 215 Parkside Drive)


Pack your shorts because we are heading to India! While there, children will learn all about traditional Indian art forms, including henna tattoos, and textile painting! Next, the kids will fly over to New Zealand! Here, we will be learning about one of New Zealand's traditional holidays – Waitangi Day! Then they will travel to the Land of Mordor to explore the Lord of the Rings! Finally, we will be stopping in Egypt, where we will be learning all about the famous Pyramids of Egypts! After a busy day of travelling we will be ready for a snack! In Egypt, we will be trying delicious Egyptian butter cookies! Please see the updated Activity Calendar Below!

Tuesday December 31 ($47)


Winter Holiday 2019! – Around the World in Three Days (Day THREE: South America, Peru, Machu Picchu & Mexico!)


(at WDCC – 215 Parkside Drive, early closing at 5pm)


Finally we will make a stop in South America to visit Peru and the ancient site of Machu Picchu! Then we will engage in some of the wildlife of Peru – LLAMAS! To complete our tour of the world, we will be stopping in Mexico, where we will learn some Spanish words! Finally, we will end out tour of the world with a Mexican Fiesta to celebrate all we have done on our travels! Please see the updated Activity Calendar Below!
We are not able to accept "walk ins" on the days, so please register online early as space is limited.
2019 PA DAYS Program (Dec 2019 – Jan 2020)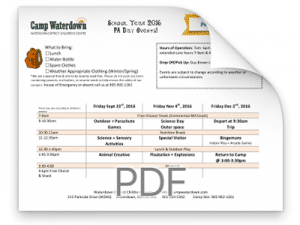 WINTER HOLIDAYS (Dec 23 2019 – Jan 3 2020) Calendar
All activities are supervised by ECE certified adult leaders with vulnerable sector checks.
Hours of Operation:
(All extended hours, snacks* included in your camp fees.)
7am – 6pm (includes Healthy snacks prior to 9am and after 4pm)
(Early closing December 31 at 5pm)
Drop-off and Pick-up Location:
Guy B. Brown Elementary – 55 Braeheid Ave  OR
WDCC (Waterdown District High School) 215 Parkside Drive
Recommended: Weather appropriate clothing and outdoor footwear, indoor running shoes, water bottle, a nut and sesame seed free lunch.
Please review the information in the Tabs on the left before proceeding to the START REGISTRATION tab.
2019 – 2020* Rates
2019 – 2020 PA DAYS & DECEMBER HOLIDAYS
Program Fees*

All Ages
Sep 20, Nov 8, Dec 23, Dec 30, Dec 31, Jan 2, Jan 3  (Local Program)
$47 per day
Nov 29 (Bus Trip Day)
$52 per day
Payments
All payments for our PA Day and Winter Holiday Programs are made by online Credit Card (PayPal), INTERAC E-mail Money Transfer, or Cheque within 2 business days of registering (cheques must be received 14 days prior to a program start).
Some families may be eligible for care subsidization through the City of Hamilton.
*Rates are subject to change.
If you require other payment options, please contact register@campwaterdown.com
Changes & Additional Days
Making changes is easy.  But DON'T try to use the registration form link.
For changes (switches, cancellations and additions) you can either email us the change (make sure to mention the child's name and program) at register@campwaterdown.com,  OR you can use the CLICK to Change Request link found under each Registration in your Family Registration page. Space is limited so we recommend registering early.
Making additions is also easy.  You CAN use the same form link to ADD days not already booked.
For adding days you can either contact us as above, or you can re-use the registration form.  Just be careful to ONLY add the new dates and not select the days you already booked (the form doesn't know that and you will be billed twice).  Check your Current Registrations tab on your Family Registration page first to see what you have already booked and paid for.
Some families choose to only select one or two days of program at a time.  That is ok, just be aware that we may sell out space by the time the last PA Days roll around (particularly trip days).
Refunds
No refunds for cancellations will be given for Program Fees within 15 days of the Program Day start, and a 50% refund is given for cancellations within 30 days of the program start.
Due to the high demand, limited enrolment and need to secure program resources; we require our families' full commitment upon registration. Credits or refunds are not given for illness, absences or program / facility closures due to weather or other unforeseen circumstances.
>> IMPORTANT Click Here for our full policy for changes and refunds <<
Registration and Wait List Policy
Space in our programs is limited (and we adhere to Ministry guidelines for safe and effective Adult/Child ratios). We reserve the right to refund and cancel enrolments as needed if an accidental overbooking or program cancellation occurs.
Wait List
If the programs do fill up, parents will be offered a spot on our Waiting List; in case we are able to open another group, or spaces open up due to cancellations. Wait List priority is not guaranteed as we do not take deposits, and we normally offer available space first to families previously enrolled in one of our programs.
Registration Process
The registration process consists of these steps:
Login or Create a New Membership (using the form at the very bottom of this page), if you haven't already got on.
Create or Review a Parent Record and Child Records (IF they need to be updated)
Use the Program Registration links that will appear under your child's name in your Child Record & Program Registration tab.
If at any time you encounter a problem or question, or your children are missing from your records, please contact register@campwaterdown.com
Our registration forms also allow a "Save and Continue" link function so that you can save your place while you look for information or answers.)×
Credit Card payments will be processed immediately through PayPal (you do not need a PayPal account).  You will be given instructions on the form and in an automated confirmation email for submitting other types of payments.
Please add "register@campwaterdown.com" to your Contacts / Address Book so that your confirmation emails don't get flagged as "junk."
You may return to your Family Registration page at any time to review your registrations or to check on their status. This is also where you will find your Tax Receipts at the beginning of each year.

LOGIN TO REGISTER
IMPORTANT: Review the Program Information tabs (to the left) FIRST before logging in and registering.
Login or Create a New Membership (using the form below, if you need to).

To avoid confusion, it is important that you do not create duplicate accounts.  If you have lost or forgotten your original email address, then please contact register@campwaterdown.com with both your old email address and your new one, and we will make an adjustment so that you can proceed.

Create or Review and submit a Parent Record and Child Record(s)
Use the Before / After School Registration links on your Family Registration page (in the Child Record and Registration Tab).
If you think you have a registered member login, but the system does not recognize you, or your parent record or children are missing, then please email
register@campwaterdown.com
and we can look to see if you have an account under an old email address or a back-up.
---
Many of your questions will be answered here, in our current Parent / Guardian Handbook
Wait List Notes:
Please do not assume that because our programs may show "Wait Listed" that we are completely full. We have changes and cancellations occurring that may open up more space!  We will contact you if a space opens for you and you are on our no obligation Wait List.