Waterdown District Children's Centre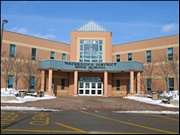 is located in a purpose-built and separate secure and modern facility attached to the Waterdown District High School, with private parking and separate entrances, a private playground, on a public bus route, and it is conveniently close to Alan A. Greenleaf Elementary and the Flamborough YMCA.
We locate our Toddler (18m) – Preschool Day Care as well as our administrative office at the WDHS location.
We also run School Board Approved, Fully Licensed Before/After School Age Programs for Alan A. Greenleaf at the WDHS location, and separate programs at satellite locations within Guy B. Brown Elementary and Mary Hopkins Elementary schools in Waterdown (Flamborough, Hamilton).
Our Summer Camp activity location is located this year at Guy B. Brown Elementary.
WDCC Day Care & Camp Waterdown Administrative Office
215 Parkside Drive
Waterdown, ON L8B 1B9
Hours: Monday to Friday 7am – 6pm
Contact us for more information:
Shelley Bradaric, Executive Director
Tel: 905-689-5342
Fax: 905-689-3413
Email:info@campwaterdown.com
School Age Program Registrations
Wayne Powell, Registration
Email: register@campwaterdown.com