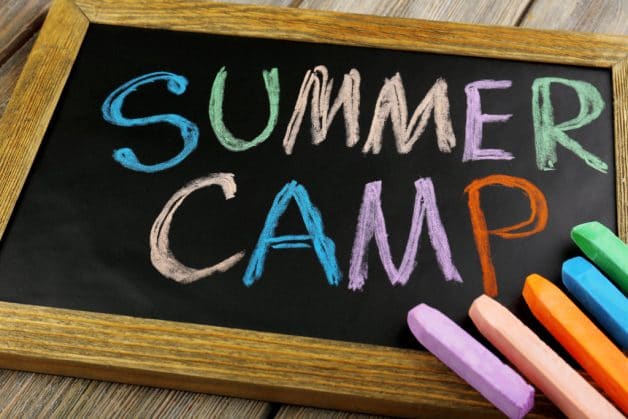 Summer 2023 Orientation and Welcome Information (For all weeks)
Summer 2023 is going to be the best year yet for Camp Waterdown!  We have taken a step back from our previous delivery of camp and found ways to make it fresh, new, and innovative while  always keeping the best interests of children in mind.  Here are some of the changes that we know will impact our program to be even better than before!
Hours have been modified and will include a core start and end time for each day. Extended care will be provided (limited number of spaces) for those that cannot make the core hours work for them. Camp will operate like a school day, with a start and end time. 8:30-4:30, with extended care 7:30-8:30 and 4:30-5:30.  You and your child will greet your Camp Leader at a designated location inside the gym from 8:30-8:45 and once again from 4:15-4:30.  Your location will be told to you in your weekly orientation email and helpful staff will be there to show you the way on the Monday of each week.  Kindergarten children will be dropped off upstairs in their classrooms.  This information will be provided to you as well!
We have established 4 core values for our camp delivery and all our programming and decision making has centred around those. They are self-worth, self-esteem, leadership, and self-respect,
Trips, special visitors, and excursions have returned, and we are super excited! Please look at our amazing activity calendars for more information.
Along with our core educators from our before and after programs, we have hired on some amazing summer staff.  They are trained, excited and ready to go!
Important Reminders
Camp Location: Waterdown District High School (East Side Student Lot and Entrance), 215 Parkside Drive, Waterdown
Camp Hours: 8:30 – 4:30 + extended care registration options
Drop Off: East Student Entrance
Extended Care Registrants: 7:30 – 8:30
Everyone Else: 8:30 – 8:45
Pick Up: East Student Entrance
Extended Care Registrants: 4:30-5:30
Everyone Else: 4:15 – 4:30
Don't forget to pack lunches (2 nutrition breaks) every day. Morning and Afternoon snack is only provided during Extended Care, to those who are registered. Please ensure lunches are peanut, tree nut and sesame free.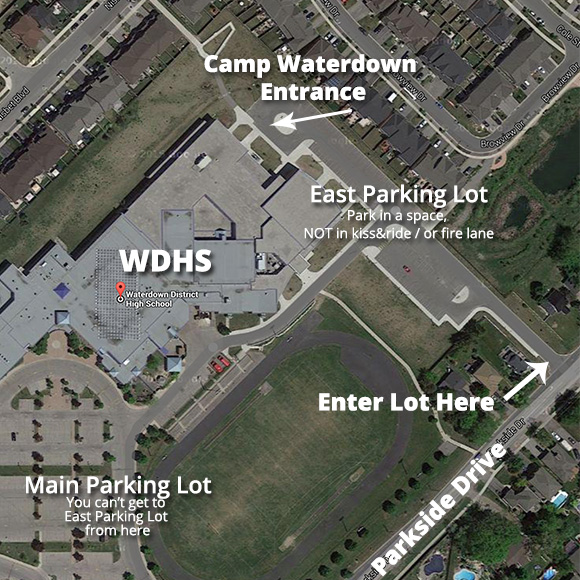 Additional Everyday Items to Pack
 Water bottle
Hat
Sunscreen
Full extra set of clothes
Bathing suit/water clothes, towel
Medications/Epi Pens
Weather appropriate clothing (running shoes, layers, rain gear
Please strive to pack running shoes and socks on field trips
Electronic Devices
Please do NOT send your child with any electronic devices, unless necessary. If cell phones are required to be used for communication or medical purposes throughout the day, they are to be kept in child's backpack until needed. Electronic devices will NOT be used as part of the everyday program, unless explicitly stated by your child's educator as a fun day!
We are not responsible for any loss, damage or theft.
Administrative Matters
Please always call the camp at 905-902-1261 for all illness, planned or unexpected absences, holidays, late drop-offs or pick ups, or if you have ANY questions or concerns. Our phone is monitored between the hours of 7am – 6pm. Please do NOT send absence notices, or late pick up/drop off notices by email, as it is not continuously monitored. Leave a voicemail if needed, and we will return your call.
Illnesses: please phone us to inform us of any illnesses your child may contact. Our staff will phone you if your child falls ill during the day. Staff will inform you of any protocols for remaining at home, or returning to camp, over the phone, based on the condition of your child. Most illnesses require children to stay home for a minimum of 24-48 hours.
For each week of camp you have registered for, you will receive a short introduction-to-the-week email, on the Thursday of the week before! This will include your child's group assignment, the weekly theme and activities, and any special notices, such as field trip reminders.
You can contact our Camp Director Mina Attia via email: mina.attia@wdcc.ca for questions, concerns or issues that arise during your child's time at camp, and he will coordinate with you on how to best address these.
Our Camp Waterdown staff will contact you by phone should any incidents or urgent matters require your attention throughout the day. Our staff also strive to make personal connections with each family member at drop off and pick up, to communicate with you about your child's day. Feel free to call our program throughout the day to arrange a time to speak with your child's group leader, if needed.
Program changes are announced via EMAIL so please regularly check your email, and add register@campwaterdown.com to your address book to ensure our emails do not go to your Junk Mail folder.
If you have any questions, please contact us at info@campwaterdown.com and we will answer you as soon as possible.
Drop Off
All children must be accompanied by a designated adult caregiver, who may be asked for identification
Arrive for drop off between 7:30-8:30, or 8:30-8:45 (earlier drop-off time for extended care registrants only)
Park in a space in the East Student Parking lot. Look for a sign near the first set of doors, to tell you where to enter!
Check in with our staff at the check-in table, and follow their directions on where to take your child.
Escort your child into their drop off area, and connect verbally with their educator.
Pick Up
All children must be picked up by an adult caregiver, and cannot leave unaccompanied.
Arrive for pick up between 4:15 and 4:30, or 4:30-5:30 (later pick-up time for extended care registrants only.)
Please contact us by telephone if someone other than those listed on the registration form is picking up.
Please bring photo ID as it is required for all adults prior to picking up.
Park and enter in the same area as drop off in the morning.
You MUST sign your child out with their educator before heading home.
Credits or refunds are not given for illness, absences or program / facility closures due to weather or other unforeseen circumstances.
Camp Waterdown (WDCC) reserves the right to withdraw a child from program participation at any time, at the Camp Director or Executive Director's discretion. In the case of temporary withdrawal or permanent termination of a registrant's participation, an affected child in attendance will remain in care until safely discharged to the designated parent or guardian.
WEEKLY ACTIVITY CALENDARS (click to download for printing)