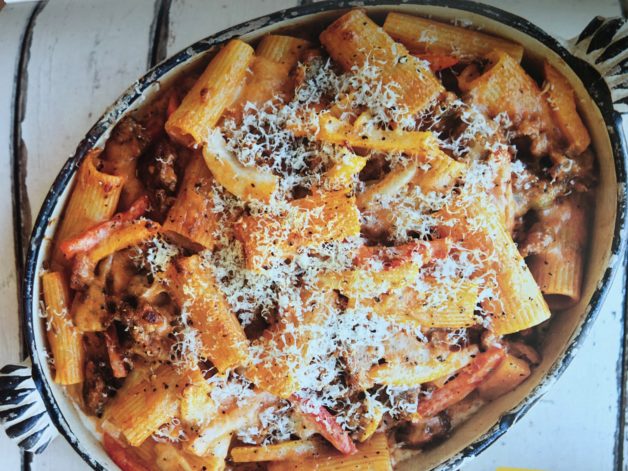 Baked Rigatoni with Fennel, Sausage & Peppers
Serves 6
2 tbsp extra virgin olive oil, plus more for greasing
1 lb (500 g) rigatoni
1 fennel bulb
¾ lb (350 g) sweet Italian sausage, casings removed, crumbled
1 each red, yellow, and orange bell pepper, seeded and sliced
Salt & pepper
1 tsp sugar
1 tbsp red wine vinegar
1 cup prepared tomato sauce
1 ½ cups heavy cream
2 cups shredded fontina cheese
(substitutes: mild provolone, gruyere, gouda or mozzarella in a pinch)
¼ cup grated parmesan
Preheat oven to 425f. Lightly oil a 9×13 inch baking dish
Bring pot of salted water to a boil. Add pasta and cook until al dente, 7-8 mins or according to the package directions. Drain and place into a bowl
Remove and discard the stalks and core from the fennel bulb and thinly slice the bulb. In a fry pan, heat 1 tbsp of oil over medium heat. Add the crumbled sausage and cook, stirring occasionally, until lightly browned, 3-4 mins. Add the fennel and cook, stirring until tender. Add to the bowl with the pasta.
Add the remaining 1 tbsp oil to the pan along with the bell peppers and a pinch of salt and pepper. Cook, stirring occasionally, until the peppers are tender 3-4 mins. Add the sugar and vinegar and continue to cook until vinegar has reduced to a syrup 1-2 mins. Add the tomato sauce and cream and cook, stirring until lightly thickened. Transfer to the bowl with the pasta add the fontina and stir well.
Pour the pasta mixture into the prepared dish and top with Parmesan. Bake until the top is golden brown and sauce is bubbling around the sides 10-15 mins.
Serve directly from the dish. Watch out though, that dish is HOT!
YUMMY!
*All recipes / projects presented on campwaterdown.com are tested by our Staff and we hope you are inspired to create them.  WDCC and Camp Waterdown is not responsible for the outcome of any recipe / project you try from our website or any resulting damage or injury to your person or property.  We make no claims as to the suitability, safety or toxicity of our projects. All such activities with children should be supervised by adults, and caution needs to be exercised when using small objects with children 3 years and under. Please use at your own risk and with reasonable cautions.
×